Gift Certificate Sale
Gift Certificates can be purchased securely on this web site, via PayPal, or by calling Fordyce Massage at 734-502-2546.
You can pay with your credit card, and don't need to have a PayPal account to purchase a certificate.
Purchase by Dollar Amount
Purchase by Massage Type - Follow steps 1-4
Scroll down to step 3 to
Print your Certificate - Prior to payment
STEP 4) Add a Tip or Skip to Step 5
Include tip
STEP 5) Click Add to Cart and complete purchase
Basic Swedish Massage
One Hour
STEP 3) Print Gift Certificate - Prior to Payment & Follow #'s 1-6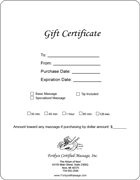 Click here to Print Gift Certificate, then write the following on Gift Certificate:
Purchaser Name *
Purchase Date
Check off Massage type (Or skip to #6)
Check off Length (Or skip to #6)
Expiration Date (1 year from purchase date)
Fill in dollar amount near bottom of certificate when purchasing by dollar amount
* If you don't want your name on the Gift Certificate, call 734-502-2546 for an activation number and write this on the Gift Certificate.
Gift Certificates may be extended if you call before they expire.
Thank you, and please call us at 734-502-2546 if you have any questions.